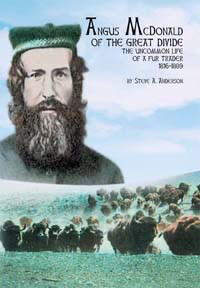 Angus McDonald of the Great Divide - The Uncommon Life of a Fur Trader, 1816 – 1889
SKU MNIBS10001
Product Details
Angus McDonald of the Great Divide explores the exploits and life experiences of the Pacific Northwest fur trader Angus McDonald, his Indian wife and her Salish people. The book provides a unique insight and perspective (heretofore unavailable) to what life was like for him and his family in the Inland Empire during the mid-19th century.
---
Excerpt:
After a half-day's float and miles of silence, save the occasional songs of the oarsmen, the clamor generated by the festering Rapids of the Dead quickly grabbed everyone's attention. Levitating their haunting mists downstream, the three-mile stretch of what today would be considered Class IV whitewater paid little heed to gender, rank, privilege, or ability. Pork-eating tenderfeet and seasoned voyageurs, proper gentlemen and Indian slaves, devout priests and craven sinners – all had tumbled down the "throat of death's whirlpool" with lethal consequence. Taking a reflective moment to remove their coats, tie back their long black hair, and lash themselves tightly to their seats, the Canadian oarsmen briefly relaxed their grips as the passengers tightened theirs, all in anticipation of the first jarring drop.

Angus recalled that Big Michel, Fort Colvile's powerful "chestnut-haired half Cree and Norman French Canadian," had been assigned steersman's duties in his boat. This man stood high at the stern with a paddle "measuring eight feet long and fourteen inches breadth of blade." As Angus watched, a sixth sense appeared to guide the Canadian's agile movements; flexing here, pushing there, Big Michel maneuvered the craft steadily into the foaming, clawing frenzy that lay ahead.

With momentum rapidly increasing, the craft began "plunging and glancing like a pursuing eagle down the headlong leap [after its prey]" remembered McDonald. Descending jerkily from cleft to rock to deep hole, Big Michel barked orders and encouragement to his oarsmen over the water's roar. Then, in the blink of an eye, the boat dove headlong into a descending whirlpool. Water flooded over the gunwales as the boat spun out of control. Women screamed, men wept, and frantic prayers were mumbled over clasped hands as "grim folds of death" twisted chaotically about the stricken craft. Time appeared to slow as all, including Michel, who was "silent and passive as death," froze in shock and awe at the stern of the boat.
---
Review
"Imagine sitting around a campfire listening to the exploits and life experiences of a Pacific Northwest fur trader and his Indian wife's people …. Now, in the warmth of your living room you can read those same stories, in Shakespearean-like prose, no less, written by the Hudson Bay Company fur trader himself, Angus McDonald." So notes Glenn Mason, former director of the Eastern Washington State Historical Society in Spokane, following his prepublication read of Angus McDonald of the Great Divide.

In this book, the stories are chronologically linked to McDonald's life, providing a unique insight and perspective (heretofore unavailable) to what life was like for him and his family in the Inland Empire during the mid-19th century. Mason continues: "McDonald's acceptance, respect and relationship with the Flathead – Salish people is clearly evident in his writings. Too long hidden in obscurity, Angus McDonald's manuscripts, as introduced and presented in this book, deserve to be on the same shelf as the better known chroniclers of the fur trade in the American West."

Quirky exploits, life and death challenges, his wide-ranging celebrity status, intimate victories and continental-sized disappointments were all enjoyed by this frontiersman from Ross-shire, Scotland. Included in this was a marriage to Catherine, a young Métis girl of royal Nez Perce lineage, and McDonald's rotation through Hudson's Bay Company's York Factory, Fort Colvile, Fort Hall and Fort Connah. Throughout the book, author Steve A. Anderson "has allowed the unique and sympathetic voice that emerges from McDonald's narratives, poetry and native stories, to throw light on the unheralded richness of the time" notes Bruce M. Watson, Canadian biographer and author.

David K. Hansen, curator emeritus of Fort Vancouver National Historic Site, notes that the book "adds significantly to general fur trade knowledge while bringing a personalized perspective to that period of Pacific Northwest history." Or, for those desiring to gain a more comprehensive understanding of this man, the stories he told and the life he lived, Angus McDonald of the Great Divide delivers an anecdotally laced, classically written, historically couched and philosophical lined broadside from the old Scotsman himself.
---
Author
Steve AndersonSteve A. Anderson has been researching and writing stories on the Pacific Northwest's fur trade since the early 1980s. After earning a history degree from Colorado State University, with some graduate work at the University of Idaho, Moscow, he returned to the bunch-grass covered prairies of his youth, University Place, Washington, to enter the museum field. He soon found employment as administrator of the Fort Nisqually Living History Museum in Tacoma's Point Defiance Park. While there, he established that site's magazine Occurrences: the Journal of Northwest History during the Fur Trade. To fill the quarterly's pages, Anderson dug deep into the archives, carefully picking through the documentation to produce a variety of non-fiction articles and biographies – a list of which continues to grow even to this day. Anderson's fur trade articles (and artwork) have also graced the pages of Columbia Magazine, the Pacific Northwest Quarterly, the Renton Historical Quarterly and the Cowlitz County Historical Quarterly during the past 20 years.
Angus McDonald of the Great Divide joins this author's two other book-length publications: The Physical Structure of Fort Nisqually: A Preliminary Study on the Structural Development of a Hudson's Bay Company Site, 1843 – 1859 (Metro Park District: 1988) and Fort Nisqually Indian Accounts Book, 1849 – 1851 (Rampart Museum Services: 2010).
As if by providence, Anderson's paternal great grandparents (Swedes) settled in the Spokane Valley – a natural portal to the Rocky Mountains through which Angus McDonald and thousands of Salish Indians trekked. On the western side of the Cascade Range, Anderson's maternal grandparents settled in Vancouver, Washington, he being born just a stone's throw from the site of the Hudson's Bay Company's "Emporium of the West" now reconstructed as Fort Vancouver National Historic Site. Anderson spent his formative years living just outside the HBC's land claims in Pierce County, Washington. Subnsequently, he retains a deep, healthy, albeit passionate interest in the events, people, writings and historical landscape of these and other places related to the Pacific Northwest's fur trade era, even though he now calls the Crystal Coast of North Carolina his home.
---
Contents
Chapter 1 Highland Youth of the Conon: 1816 – 1838
Chapter 2 Peddlers of the Wilderness: 1838
Chapter 3 Within an Inch: 1838 - 1839
Chapter 4 Reunion: 1839 - 1840
Chapter 5 Among the Snakes: 1840
Chapter 6 Wastes of the Coyoterna: 1840 - 1841
Chapter 7 Courtship & Marriage: 1841 - 1842
Chapter 8 With Courage & Fidelity: 1842 - 1847
Chapter 9 New Ground: 1847 - 1849
Chapter 10 Many Horses & the Path of Blood: 1849 – 1851
Chapter 11 Quartz Rock & Splendid Brandy: 1851 – 1854
Chapter 12 Desperate Resolutions: 1854
Chapter 13 Treaties, Gold & the Interior Brigade: 1854 - 1855
Chapter 14 Cursing In Silence: 1855 – 1858
Chapter 15 Adrift: 1858 – 1859
Chapter 16 Panthers & Pork: 1859 – 1860
Chapter 17 Boundaries & Shadows: 1860 - 1862
Chapter 18 Nature's Last Scream: 1862 – 1865
Chapter 19 The Melancholy Spectator: 1865 – 1870
Chapter 20 Reflection & Retreat: 1870 – 1871
Chapter 21 True Americans: 1871 – 1876
Chapter 22 An Uncommon Pen: 1876 – 1881
Chapter 23 The Gathering Lilt: 1881 – 1889
Chapter 24 Postscript: 1889 – Present
Endnotes
Appendix A: A documented timeline of Angus McDonald's 1839 cross-country journey from York Factory on Hudson Bay to Fort Colvile on the Columbia River
Appendix B: A reconstructed participant's list of the July 1855 Colvile/ Walla Walla Interior Fur Brigade to Fort Nisqually
Sources
Save this product for later