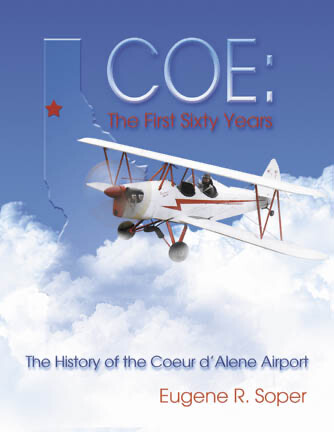 COE - The First Sixty Years, The History of The Coeur d'Alene Airport
SKU MNIBS10003
Product Details
Coeur d'Alene airport is a jewel of an aerodrome and this book is full of interesting and fun facts, and photographs. Told with flair by an icon of Northwest aviation, this book has tales of successes and failures, good days and bad days of aviating, and bios of some truly interesting characters. A must read for all airplane lovers. 160 photos
---
Excerpt
The air traffic control tower (ATCT) was built at a cost of $4,500, although it took $20,000 to equip it with all the radios that were needed for communicating with the aircraft that were so equipped, as well as having a light gun for the "norads," those aircraft without radios. On August 14, 1943, the tower was ready to be commissioned by the CAA (Civil Aeronautics Authority). The tower would have a staff of eight with Robert Holen, formerly of Spokane, transferring here from Great Falls, Montana as chief airport traffic controller. Mr. Holen was a native of Harrison, Idaho so he already knew the territory well. The rest of the staff consisted of Wallace Burgeson, from Portland, Oregon; William Tipton, from Medford, Oregon; Harry Sands, from Great Falls, Montana; Leo Yuchert, from Spokane, Washington; Malcolm Heywood, from Seattle, Washington; Jack Farley, from Yakima, Washington; and Evelyn Kempford, from Billings, Montana. None had less than a year of tower experience.
The most fascinating thing about the tower was that the upper level of the three-story structure was totally glass enclosed. It measured 14 ½ x 14 ½ feet and was equipped with eight radio receivers and three transmitters with microphones, being able to communicate on either low frequency (LF) or very high frequency (VHF). The floor below Mr. Holen's office had another four transmitters as well as three receivers. Besides all of the radio equipment there was a full complement of weather reporting instruments as well as a long line interphone with the Seattle airway traffic control center. The tower was to operate around the clock and seven days a week, with a minimum of two persons on duty at all times. It was originally hoped that Northwest Airlines would make this their stopover terminal. However, the control tower facility was closed and decommissioned in the late 1950s. Then it was finally removed altogether, although the lower level was remodeled and added onto several times. The lower level remained in use over the years as an airline passenger terminal, the office of the USFS Air Tanker Base, and even the airport manager's office. The CAP (Civil Air Patrol) met there as well as the Airport Advisory Board. It was finally torn down completely, after having served for over sixty years. Like they say, time marches on.
---
Author
Eugene Soper was born in Lincoln, Nebraska in 1930. In 1934, in the middle of the "Great Depression", he and his family migrated to Idaho with a covered wagon, taking up residence in New Plymouth. His father being a baker soon had the local bakery operating profitably. In 1940 the "Soper's Monogram Bakery" moved to New Meadows, Idaho, where five years later the author began taking flying lessons. These lessons and the last three years of high school he financed by buying, fixing, and selling cars. Moving to Coeur d'Alene in 1949 he went to work for Gage Air Service in Kellogg, Idaho. He obtained his "Private Pilot" certificate, and traded one of his cars for his first airplane, a 1940 Piper J-3 Cub. This was soon upgraded to a 1946 Aeronca Chief, which he had when he married his only wife. Needing a better income he soon was employed by a local construction company as a Heavy Duty Diesel mechanic. He remained in this profession for twenty-five years. In 1976 he left the construction trade and established a "Heavy Duty Diesel Mechanic" program for North Idaho College, remaining there until retirement in 1992.
Never losing his love of airplanes and flying, he would fly anything, anytime the opportunity presented itself. Early on he earned his "Airframe and Power Plant Mechanic" license, as well as his Commercial Pilot certificate with Multi-engine, Seaplane and Glider ratings. On summers off while teaching school he flew with a Flying Circus, "Barnstorming" around the Northwest in an old open cockpit Travel Air 4000 Bi-plane. Being a "born" mechanic he was always interested in a plane that wouldn't fly. He was also listening for a pilot that wanted to buy one that would fly. With nearly 300 different "N" numbers in 13 log books, he thought about writing a book whenever he grew up.
Gene was inducted into the Idaho Aviation Hall of Fame November 2010
---
Review
COE: The First 60 Years, is definitely one of those, " Gee, I didn't know that!" kind of books. Full of interesting and fun facts about the Coeur d'Alene airport-a jewel of an aerodrome in one of the most beautiful parts of the country-it's backed up by a fascinating selection of historic photographs. Told with flair by an icon of Northwest aviation, this book has tales of successes and failures, good days and bad days of aviating, and bios of some truly interesting characters. A must-read for all airplane lovers, especially those who have, or want to, drop in at Pappy Boyington Field in Hayden Lake, Idaho.
Mike Kincaid, author of the Alaska Trooper Jack Blake aviation adventure series.
Gene's passion for aviation is contagious! Gene turned what could've been a "boring" history book into an informative and entertaining journey for aviation and non-aviation enthusiasts alike! His support of our Airport is unparalleled!
Linda Leigh, Senior Secretary at the Coeur d'Alene Airport
Pilots will delight in Gene Soper's intimate knowledge of everything aviation, but COE history has something for everyone. From pilot training in WWII to brushes with Howard Hughes and movie fame; from firefighters' daredevil fuel drops to ladies' airraces, this Field's story is far from finished.
Sholeh Patrick, Columnist, Coeur d'Alene Press and private pilot.
It was a distinct pleasure reviewing Gene's book on the history of the Coeur d'Alene Airport. Being a pilot by vocation and an avid aviation history buff, I find the book to be a fascinating account of the rich heritage of this Idaho landmark.
Aviation has progressed throughout history almost solely based upon man's love of flying and the sense of freedom and adventure it brings. The history of the Coeur d'Alene airport and aviation in North Idaho are no different. Gene has skillfully captured the spirit and essence of that history in this exceptional book. It is a great read with fine photography vividly depicting this important part of our local history.
Empire has been a part of this airport since 1979 and much of our success has been because of the excellent management of this valuable asset and the people with the foresight to make it a great place to fly and do business. My only regret is that Gene hasn't yet told many of the other colorful stories that are part of the airports' rich history. Perhaps there is a sequel in the wings, Gene?
Tim Komberec, President/CEO Empire Airlines
---
Contents
Preface and Acknowledgements
1. The Airport - A Unique Industry Of Its Own
2. Prominent People At The Airport
3. Events & Activities At COE
4. Unique Aircraft At COE
5. Base Of Operations
Conclusion
Index
Save this product for later