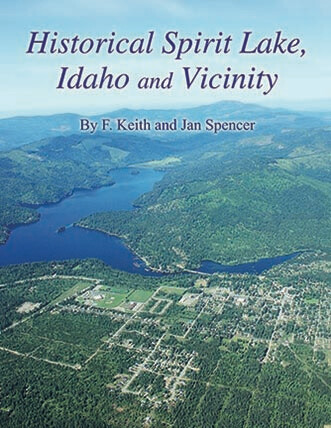 Historical Spirit Lake, Idaho and Vicinity
SKU MNIBS10005
Product Details
This is the amazing story of a small city transformed from raw wilderness to a modern, bustling town and major industrial area in only eight months. After the boom came the bust with struggles that for a time threatened the town's continued existence. However, times are finally changing with Spirit Lake slowing returning to its former glory.
---
Excerpt
Fredrick Albert Blackwell, the founder of Spirit Lake, arrived in Coeur d'Alene in 1902. He was 50 years old and at an age when many men would be looking ahead toward retirement. Not Blackwell. He hit the streets of Coeur d'Alene running. As it turned out, this energy led to the creation of a vast empire across northern Idaho and northeastern Washington. Spirit Lake was to become the crown jewel. In terms of lumbering, the July 1985 edition of the Pacific Northwest Quarterly listed his lumber empire as second only to the vast Weyerhaeuser Syndicate operating in both the Lewiston and Puget Sound areas. This didn't even include Blackwell's railroad and mining interests.. . .
Blackwell was secretly buying both right-of-way for another railroad and over 100,000 acres of virgin timber in the Spirit Lake area and elsewhere. By 1905 people began to realize something big was happening, but it wasn't until Blackwell announced the incorporation of the I&WN Railroad on March 27, 1907, that his intentions became clear. This initially created little stir as most people thought the I&WN would be just another logging railroad. Boy, were they in for a surprise! Around 1905 land records show people started buying parcels of land in strange places, such as timbered mountainsides above Spirit Lake. Blackwell's friends knew what was going on and were taking advantage of this inside knowledge. Blackwell liked, and had a way with, people. He arrived in Coeur d'Alene as an unknown and, in an unbelievably short period of time, seemed to own everything around North Idaho.

At about the same time Blackwell incorporated the Panhandle Lumber Company and announced plans for two huge sawmills at Spirit Lake and Ione. By June 1907, Blackwell had purchased, from Marion Wharton, an entire section of land near Spirit Lake and on July 15th he incorporated the Spirit Lake Land Company. The section was quickly platted and the first lot for the new town of Spirit Lake, to be carved from the wilderness, was sold on October 3.

While all this wild stuff was going on in Spirit Lake, Blackwell was expanding his activity in Coeur d'Alene. In early 1909 he bought the financially troubled B. R. Lewis Lumber Company and all holdings. In turn, he merged his new interests with the Menasha Woodenware Corporation, thus creating a new concern, The Blackwell Lumber Company. The Coeur d'Alene mill soon became known as the Blackwell mill, which operated successfully for many years, closing in 1937

In the meantime, Fredrick had appointed his son, Russell, as Vice President and General Manager of the I&WN. In an amazingly short period of time (eight months) Russell had the fledgling railroad up and running between the Spokane Valley (McGuire) and Newport, with plans to extend the track to Ione to support the second mill the following spring.
---
Author
The Spencer family arrived in Spirit Lake in 1909 while the town was still under construction and immediately started building a home on Madison Street. Accordingly, the family roots run deep. Keith was born in 1933 and spent his first six years living on the shore of beautiful Spirit Lake where, sitting around the kitchen table, he eagerly listened to tales about early Spirit Lake. In 1940 the family moved to Bremerton, Washington where his dad was finally able to obtain good employment at Puget Sound Naval Shipyard. Keith graduated from Bremerton High School and later graduated from the University of Idaho with a degree in Chemical Engineering.

Jan was born and grew up in Seattle. She graduated from West Seattle High School and attended the University of Washington. Both were soon employed by The Boeing Company where they met, fell in love and were married. After marriage, Jan opted to become a homemaker and mother. She was the principle force during the raising of three fine children.

Keith was employed at Boeing for nearly 45 years, where he honed his writing skills writing, reviewing and approving technical specifications. At the same time, as an avid mountain climber, he began writing and publishing numerous works, mostly on the outdoors and mountaineering. In 1972 Olympic Mountain Rescue appointed Keith as chairman of a group authorized to write and publish A Climbers Guide to the Olympic Mountains of Washington. The effort was quite successful and Keith has led preparation of three more editions of this 375 page book.

After Keith's retirement, the couple was able to spend much more time at Spirit Lake where they (especially Jan) were able to start research on the book project.

Between Keith's now finely honed writing skills and Jan's penchant for both genealogy and historical research, the definitive work on Spirit Lake called, Historical Spirit Lake Idaho and Vicinity, has finally been completed and published.
---
Review
Keith and Jan Spencer have spent over 10 years researching and writing their book, the Historical Spirit Lake, Idaho and Vicinity. The time, dedication, and accuracy they applied to this project is quickly evident and has clearly made it the definitive history of Spirit Lake.
In this endeavor, they realized the importance of original resources, asking for and receiving excellent cooperation from the archives of every public entity involved with Idaho's history. They also drew upon the expertise of the areas most respected historians in the Inland Northwest.
Based on thorough research of the earliest information available, the Spencers begin their book with an interesting description and credible hypothesis of how the area around Spirit Lake was formed. Following that interesting discourse the authors developed the story of Spirit Lake with detailed descriptions and an abundance of photographs.
Most important, the authors chronologically detail highlights of the area as it relates to both important events and incidents of levity, such as the "Haywire Railroad," and a "Female Bootlegger."
Spirit Lake's history is filled with people who worked hard, played hard, and often just did interesting "stuff." The authors have created a great read – a book that will bring many memories and smiles to the few left who have lived it. It is an excellent record for those that just want to know about Spirit Lake and the surrounding area or look at exceptionally old and interesting photographs.
Tony Bamonte
Like many other first-time history writers (myself included), Keith & Jan Spencer first came to their research with no intention of writing a book; but the discovery of more and more exciting finds lured them on with a resulting accumulation that begged for something more.
The book will be of interest to the railroad fan. It includes information about the short logging line the Idaho Logging Railway at Twin Lakes and the Idaho & Washington Northern Railroad. The I&WN Railroad with its headquarters at Spirit Lake was constructed as a first-class railroad with new equipment and a roadbed second to none. Building this way was very expensive and certainly led to its "rescue" by the Milwaukee Road. The Spencers' photos and text both give a very graphic view of the fascinating hub of this wonderful railroad.
But beyond the railroad interest, it also carries the enchanting story of a number of steamboats that ran on Spirit Lake.
Of course the story of the town itself is full of fascinating characters that are thoroughly entertaining as well – not to mention the way the community evolved through the years. It is a great read. I thank both of the authors for bringing this story to light.
John V. Wood
---
Contents
Table of Contents
Acknowledgments
Prologue:
Chapter 1 In The Beginning
Chapter 2 Pete Rhodebeck, The First Settler
Chapter 3 The Early Days and a Few Characters
Chapter 4 TaKooWaKan (The Antlers)
Chapter 5 Fredrick A. Blackwell-The Founder of Spirit Lake
Chapter 6 The Idaho and Washington Northern Railroad (I&WN)
Chapter 7 Birth of a City- Spirit Lake, Idaho
Chapter 8 The Village of Spirit Lake Grows Up
Chapter 9 The Panhandle Lumber Company, Limited
Chapter 10 The Haywire Pacific
Chapter 11 The Spirit Lake Chautauquas
Chapter 12 Disaster Strikes: The Spirit Lake/Blanchard Fire
Chapter 13 The "Blowup" and Dire Consequences
Chapter 14 Bad Times Arrive
Chapter 15 A New Beginning
Chapter 16 Through the Years
Chapter 17 To A Better End
Chapter 18 The Spirit in Spirit Valley
Chapter 19 Unique Describes Twin Lakes
Epilogue
Bibliography
Save this product for later