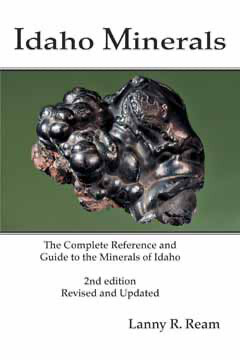 Idaho Minerals - The Complete Reference and Guide to the Minerals of Idaho
SKU MNIBS10007
Product Details
This revised and updated second edition of Idaho Minerals includes 360 color photographs. It is a complete reference and guide to the minerals of Idaho and includes special chapters on the Coeur d'Alene Mining District, the Blackbird Mining District, and the Sawtooth Mountains. Written with the field collector, armchair collector and mineralogist in mind this guide makes the information on the mineralogy of Idaho available to all those who are curious about the natural world, study minerals or collect minerals. This expanded edition includes 39 new mineral listings, many for minerals new to the state, and dozens of new listings.
---
Excerpt
This reference, the second edition of Idaho Minerals, was written for the purpose of making the information on the mineralogy of Idaho available to all those who are curious about the natural world, study minerals or collect minerals. It is an on going project that will never be complete - new information will continue to be discovered and those who have knowledge that hasn't been published or otherwise passed on to others will become known to the author and others who will pass it on. The author investigates and studies the mineralogy of Idaho and will continue to do so, and expects to publish a third edition of this book.
Although the information in these pages can be useful as a guide to the mineral occurrences of the state for those who are interested in investigating them or collecting mineral specimens, no effort was made to record and explain complete information on ownership and accessibility of the land for each mineral occurrence. The reason being that this book was not prepared to be a field guidebook. Obtaining and maintaining ownership and access information is a time consuming process. Ownership often changes as does access, lands are sold, gates are installed or removed and access roads wash out or deteriorate. Access and ownership information has been included when it was available and believed to be accurate, but no effort was made to ensure this accuracy at the time of publication. It is the responsibility of the individual to determine ownership and right of access before entering any mineral location, mine or other land or property.
Information was obtained from many different sources. All the information that was in the first edition has been included in the second edition. This information has been corrected where needed and updated with new information where available. In addition, much new information has been learned by direct field investigation and laboratory analyses and identification of minerals, the viewing of specimens and by written and verbal communications with others. All entries have a reference of the source, be it a publication, or a listing that it was obtained by the authorâs personal knowledge as described in the preceding sentence. For the first edition, an extensive literature search provided much information. For the second edition, an extensive search for new publications was not done, this edition is primarily information obtained by the author through personal contact and investigations.
Being that this book is part of an ongoing investigation and study of the mineralogy of the state of Idaho, all comments and information on the minerals of the state are welcome. From various studies and comments, 39 new mineral listings, many for minerals new to the state, and dozens of new listings have been added to this edition over what was in the first edition.

K(Mg,Fe)3(Al,Fe)Si3O10(OH,F)2, monoclinic Tabular or short prismatic crystals or foliated masses; perfect cleavage so that it may be separated into thin sheets. Dark green, brown to black. A common accessory mineral in igneous rocks and some gneisses and schists.

Boise, Custer and Elmore Counties: Biotite appears to be rare in the granite of the Sawtooth Mountains. Most of the dark mica group minerals are masutomilite or zinnwaldite. The dark mica in one cavity apparently has proven to be biotite, and may be present in others. In this cavity, it forms small books and flakes with microcline, albite and smoky quartz.
Lemhi County: Biotite forms well-developed rosettes in the cobalt mines in the Blackbird District. It is a common rock-forming mineral in the host rocks of the ore deposits. Fine specimens have been found in the Togo Mine (Shannon, 1926).
---
Author
Lanny Ream has been interested in minerals all his life and carried an early interest in minerals, rocks and fossils with him to college, earning a Masters Degree in Economic Geology. After working for several years as a mineral exploration geologist, then as a geologist and mineral examiner for the Bureau of Land Management and US Forest Service, Lanny decided to continue working with mineral-related subjects, including the founding and publishing of Mineral News, a monthly newsletter for mineral collectors, which he edited and published for more than 18 years before selling it. He continues to explore and write about mineral localities of the Pacific Northwest with an emphasis on the mineralogy of the states of Idaho and Montana.
This second edition of Idaho Minerals is the result of an additional 15 years of studying the mineralogy of Idaho after publishing the first edition in 1989. This volume shows his dedication to this subject by the addition of many minerals identified for the first time in Idaho due to his field work and studies.
Other books by the author include the guide to Washington minerals and lapidary materials, now in its 28th year of publication: Gems and Minerals of Washington; Northwest Volcanoes (a guide to volcanoes in the Northwest states and British Columbia and Gem and Mineral Collectorâs Guide to Idaho.
---
Reviews
". . .the definitive work on the minerals of Idaho. . ."
"Lanny Ream has produced the definitive work on the minerals of Idaho. The book is well organized with ample descriptions of each mineral species. Color photographs illustrate a good variety of the modes of occurrence of many of the minerals described. The list of occurrences is nicely filled with "interesting tidbits" as well as associated minerals from each of the locations described.
A worthwhile addition to any mineral collectors library, a must have for those interested in minerals of the Pacific Northwest."
---
Contents
Part 1. Locality Chapters
1. Coeur d'Alene Mining District / 1
2. Blackbird Mining District / 19
3. Sawtooth Mountains / 29
Part 2. Mineral Descriptions
A. Acanthite - Azurite / 62
B. Barite - Brookite / 81
C. Calcite - Cyanotrichite / 101
D. Delafossite - Duftite / 134
E. Elbaite - Evansite / 138
F. Fayalite - Friebergite / 143
G. Gadolinite-(Ce) - Gyrolite / 153
H. Halloysite - Hydrozincite / 181
I. Ilvaite / 190
J. Jamesonite - Joseite / 191
K. Kainsoite-(Y) - Kyanite / 194
L. Labradorite - Ludwigite / 196
M. Magnesioferrite - Muscovite / 202
N. Natrolite - Nitratine / 220
O. Offretite - Owyheeite / 224
P. Palygorskite - Pyrrhotite / 229
Q. Quartz / 255
R. Realgar - Rutile / 264
S. Safflorite - Sylvanite / 267
T. Tacharanite - Tyrolite / 293
U. Unknown - Uranophane / 308
V. Valentinite - Volborthite / 309
W. Wardite - Wurtzite / 314
X. Xanthoconite - Xenotime-(Y) / 319
Z. Zalesiite - Zoisite / 320
Bibliography / 323
Mineral and Locality Index / 332
Save this product for later