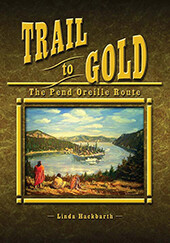 Trail to Gold - Pend Oreille Route
SKU MNIBS10021
Product Details
Trail to Gold: The Pend Oreille Route is et in the 1860s and tells the story of the Oregon & Montana Transportation Company, a subsidiary of Oregon Steam Navigation (OSN). When new gold discoveries were announced in southern British Columbia and western Montana Territory, OSN President John Ainsworth and others made plans to capitalize on trade up the Columbia through northern Idaho Territory by building steamboats on Lake Pend Oreille and the Clark Fork River.
Ainsworth promoted a new port at White Bluffs which stirred controversy in Walla Walla in opposition to this effort. The book explains the lengths Ainsworth and other directors took to evaluate the potential of utilizing a water route into Montana to support the business interests of Oregon. Zenas Moody, later an Oregon governor, became the man charged with overseeing the construction of the steamer Mary Moody which operated on Lake Pend Oreille. Two additional steamboats built along the Clark Fork provide additional tales of steamboating lore.
The author, Linda Hackbarth, utilizes journals of Seth Luen Pope found at the Oregon Historical Society in Portland to add color and authenticity to her story. Pope's accounts are supplemented by those of William Penn Abrams, builder of the first steam saw mill in Portland and later owner of The Dalles Lumber & Manufacturing Company. Until now little has been written about these pioneers of Portland and The Dalles history. Pope and Abrams were only two of many Oregon residents employed by the Oregon & Montana Transportation Company. Other personalities revealed in this story include early citizens of The Dalles: Orlando Humason, James Odell, Harvey and Sarah Hogue, Ben Snipes, Otis Savage, George Twitchell, and more. Their photos were found among a collection gathered by The Dalles Pioneer Association. Ms. Hackbarth artfully combines historic facts with maps, biographies, and photos to provide a fascinating glimpse of territorial times in the Pacific Northwest.
Maps and photos paint a vivid canvas of Lake Pend Oreille and the surrounding area providing an understanding of the lake, the Clark Fork River, and the Pend Oreille River crossing of Seneacquoteen. Biographies shed light on the major personalities mentioned in the journals. All combine into a fascinating glimpse of territorial times.
---
Excerpt
Undaunted by his failures to strike it rich and very short on funds, Moore was befriended by Alpheus Kyger, who hired him as clerk at the store of Kyger Reese. When Moore contemplated returning to the gold mines in Montana, Kyger offered him a salary of $1,000 a year to entice him to remain in Walla Walla. While at the store he met a freighter by the name of William Lancaster. Instead of rushing off to hunt for gold themselves, they formed a partnership with the express purpose of transporting supplies to the Kootenay mines in Canada.
After hiring some teamsters, they loaded five wagons with provisions in October 1864, and headed to Haines Ferry on the Pend Oreille River and the settlement of Seneacquoteen. Discovering no wagon roads existed beyond that point and no pack animals were available to carry the load further north, the pair decided to rent a log house from the ferryman Guy Haines and his partner, Ed McCrea. Moore assumed the task of remaining with the supplies, while Lancaster returned to Walla Walla with the teamsters, horses, and wagons. Moore wrote:
"It was a gloomy place and I had a siege of homesickness. However, the miners and packers were coming from the mines in considerable numbers and business for a time was quite brisk. Haines' place was a sort of roadhouse where meals and whiskey were sold; the returning miners enjoyed this opportunity to 'tank up', they frequently spent their time gambling and drinking and firing off their pistols. Feeling the need of some companion, I asked one of the ferrymen to sleep in the store; he rewarded my hospitality by stealing my pocketbook, getting about seventy dollars."
By December business became nonexistent. Winter began with a vengeance, snow accumulating to a depth of two feet. Since he felt that there was little hope for further business, Moore returned to Walla Walla. He left his supplies with Haines, giving him explicit instructions to sell to paying customers only. With the help of an Indian who carried most of his supplies, he made his way on foot to Charles Connor's Ranch. Ten miles down the trail they stopped at Hoodoo Jack's, whom Moore described as a little man with possible ties to outlaws driven out of Montana. Being concerned about the $900 in gold dust he was carrying, Moore slept with his revolver cocked under his pillow.
Making slow progress the next day through ten miles of frigid temperatures and deep snow, he and his Indian guide were forced to spend the night in the woods. Moore, suffering from severe frostbite, was saved by the actions of his companion. They finally reached Connor's place, also rumored by Moore to be a hideout for outlaws chased out of Montana by the vigilantes. Miles joined a rowdy mix of Indians and ruffians for a Christmas dance before departing for Walla Walla.
Moore identified "William" Haines as the ferry operator when writing his memoirs in 1918, but Haines was no doubt really Guy Haines, as seems to be later confirmed in the Moore papers. Guy Haines was authorized to run a ferry at this location by the Spokane County Commissioners in 1863.
Charles Connor was one of the earliest settlers in what would become Rathdrum, Idaho. Waldo Emerson Rosebush, "The Valley of the Sun," Spokane Chronicle, Dec. 2, 1933.
---
Author
Linda Hackbarth retired to her vacation home on Lake Pend Oreille in 1996, after thirty-four years in the field of education. She earned a B.S. from Miami University and M.S. from the University of Oregon, before taking post-graduate courses at Michigan State University. Her teaching assignments ranged from the elementary grades through university level. During her career she accepted positions with the Department of Defense in England and as an exchange teacher in Australia. Prior to retiring, Linda lived in Pullman, Washington, for twenty-four years, where she was an Assistant Professor at Washington State University and later a middle school teacher.
Her interest in history arose from her travels and from years as a sixth grade teacher, but was ignited when she came to realize that the chronicled histories of Bayview, Idaho, and Lake Pend Oreille were missing many intriguing facts and stories. Attempts to initiate an historical society in town met with little success, so Linda assume the task of gathering old photos, interviewing local residents, writing the stories of the past, and running the Bayview Historical Society herself. She has shared her interests as a speaker throughout Northern Idaho and in Spokane through her membership in the Westerners Corral.
To date Ms. Hackbarth has produced a DVD, "Bayview: The Early Years," and has written a book, Bayview and Lakeview and Other Early Settlements on Southern Lake Pend Oreille, in cooperation with the Museum of North Idaho. She continues to add photos to a pictorial book containing over 350 historic images which she produces and sells locally. Her website, www.bayviewhs.com, affords others the opportunity to discover some of the stories online. She was honored by the Museum of North Idaho with their 2010 Friend of History Award.
Linda enjoys summers overlooking Lake Pend Oreille and winters in Gold Canyon, Arizona. She is actively involved in various Bayview activities, as well as saving time for gardening, golf, boating, and volunteering with her Golden Retriever, certified therapy dog.
---
Reviews
Linda Hackbarth has played the role of historical sleuth, uncovering a trove of little-known sources while unraveling the story of transportation along Lake Pend Oreille. She weaves together myriad tales of people, businesses, and places in creating this long-overdue narrative. Historians have recognized the significant role of the Pend Oreille route during the Northwest mining boom of the 1860s, and its influence on the development of Idaho and Montana. But until now, the fascinating details of this important chronicle have been lacking. Trail to Gold is not only a pleasurable read; it is also a major contribution to the historical literature of Idaho and the Inland Northwest.
Keith Petersen
State Historian/Associate Director
Idaho State Historical Society
Seth Pope's journals come as a wonderful discovery, bringing Lake Pend Oreille's steamboat era to life through personal touches and wry artwork. With Linda Hackbarth skillfully weaving the larger context around Pope's story, Trail to Gold offers a real contribution to regional history.
Jack Nisbet
Author, Sources of the River, David Douglas, and others
Contents
Acknowledgements iv
Prologue 1
Chapter One Introduction 9
Chapter Two Infl uences Of Gold 13
Chapter Three Oregon Steam Navigation Company 21
Chapter Four The Oregon & Montana Transportation Company Takes Shape 39
Chapter Five Walla Walla Calls The Pend Oreille Route A Humbug 43
Chapter Six North Via White Bluffs 47
Chapter Seven Pen d'Oreille City - Home Of The Mary Moody 61
Chapter Eight The First Season Ends 69
Chapter Nine More Business And A Stage Line In Early 1867 81
Chapter Ten Mail Delivery In The Inland Northwest 89
Chapter Eleven Clark Fork River Steamers 97
Chapter Twelve Indian Unrest And The Approach Of Winter 1867 103
Chapter Thirteen Business Slows – Northern Pacific Survey Crew Arrives 109
Chapter Fourteen Demise Of The Oregon & Montana Transportation Company 127
Chapter Fifteen Postscript 131
Trails Supplement 137
Bibliography 159
Index 173
Save this product for later