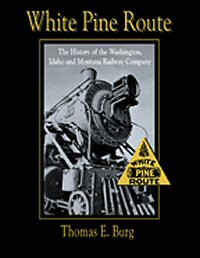 White Pine Route - The History of the Washington, Idaho and Montana Railway Company
SKU MNIBS10025
Product Details
The Washington, Idaho and Montana (WI&M) Railway was built in 1905-1907 to access the worldâs finest stand of white pine. The fifty-mile line from Palouse, Washington, to Bovill, Idaho, was the Potlatch Lumber Companyâs conveyance for timber to mill, cut lumber to outside connections, and the artery of commerce for the region. The road carried so much white pine that it adopted the nickname, the White Pine Route.
White Pine Route tells the history of the WI&M through its independent period (1905-1962), as a wholly owned subsidiary of the Milwaukee Road (1962-1980), as the WI&M Branch of the Burlington Northern (1980-1996), and as the WI&M Industrial Lead of the Palouse River and Coulee City Railroad (1996-present). Part II documents WI&M rolling stock, from its initial steam power and logging locomotives of the Potlatch Lumber Company, through its railcars carrying passengers, mail, and express from the Depression until the end of passenger traffic in 1955, to its diesel era. Railroad structures and logging operations of the Potlatch Lumber Company are covered.
The material is structured in two parts: the roadâs history of interest and use to the Idaho historian, amateur and professional; and the WI&Mâs equipment and physical facilities of appeal to those interested in railroads, the logging industry, and perhaps to someone else who might wish to replicate the WI&M in miniature.
---
Author
Thomas E. Burg was a railfan from infancy in his native Cincinnati, Ohio, when the whistle of a passing train awakened him daily from his nap. Following graduation from Wilmington College, Wilmington, Ohio, he attended graduate school at the University of Idaho, Moscow, earning a Master of Science degree in Organic Chemistry. It was here that he began a lifelong acquaintance with the Washington, Idaho and Montana (WI&M) Railway, subsequently researching its history.
While at the University of Idaho in the 1960s he visited the WI&Mâs Potlatch depot and rode in the locomotive and caboose. He enjoyed not only the scenery but stories the crew members told of shay locomotives hauling logs up steep logging spurs. As they rode, the crew pointed out overgrown rights-of-way where these long-abandoned spurs departed from the main line. They shared colorful stories of the railroadâs passenger service that he missed seeing by ten years. As he listened, he visualized Idahoâs frontier and soon considered the WI&M his favorite railroad. After graduation, however, work and family drew his attention, taking him far from Idaho. The White Pine Route would have to wait
After leaving Idaho in 1967, Mr. Burg served a career as a Special Agent of the Federal Bureau of Investigation, retiring in 1999 to write this history. When his interest in model railroading evolved, the only prototype for him was the WI&M, which he planned to accurately replicate not only in equipment, but in historical essence. Although he had experienced the line first-hand, he needed historical data. He initially found little in print, but soon learned of historical and corporate records, photographs, and individual pieces of personal history, and began my own research. Over time, this research became an effort to compile the WI&Mâs complete history.
Burg considers himself to be a rail historian, model railroader, and collector of railroad artifacts, the largest of which is a full-size railroad caboose, naturally lettered for the WI&M. He is a member of the Washington, Idaho and Montana Railway History Preservation Group (WI&MRyHPG), Milwest, Milwaukee Road Historical Association, Museum of North Idaho, Latah County Historical Society, Potlatch Historical Society, the American Railroad Caboose Historical and Educational Society (ARCHES), and is an Operation Lifesaver presenter. He resides in Wisconsin.
---
Reviews
Finally, a book that fills a huge void in Idaho history: Potlatch Lumber, the largest sawyer, and the biggest logging railroad, in the State. Itâs a book historians, as well as rail buffs, have been waiting for. And the wait is well rewarded. White Pine Route is thoroughly researched, lavishly illustrated, and written in a relaxed style. A superior book in all three features.
- Jim Witherell Log Trains of Southern Idaho
WHITE PINE ROUTE is a remarkable, accurate, carefully researched and documented historical account of the WI&M and rise and fall of the Potlatch Lumber Company. As I read, I relived my 42 years at the Potlatch mill. It was fun.
- Lee Gale Sr. Amateur Historian
For anyone with interest in an exceptional shortline railroad and the white pine logging industry. Thoroughly researched, with great photos and maps.

- Ralph Wehlitz, Rail historian and photographer, Master Model Railroader.
The White Pine Route is at the top of our list for accuracy and readability. It covers a vast area of time and acreage and manages to be quite concise, while leaving out nothing noteworthy. This is the true story of a huge enterprise laid out in an easy to digest form. We give this book our highest recommendation.
- Steven R. Gatke, President, Timber Times, Inc.
The White Pine Route is THE STORY of north Idaho's railroad and logging history in the 20th century. The rich details in this well-crafted and carefully researched history renewed my boyhood enchantment and furthered my lifelong fascination with the WI&M Railway and Potlatch Lumber Company.

- Jim West, president. WI&M Railway History Preservation Group, Inc.
---
Contents
| | |
| --- | --- |
| Preface | III |
| Table of Contents | VI |
| Part 1 - History | 1 |
| Chapter 2 - The White Pine Belt (Before 1900) | 5 |
| Chapter 3 - The Potlatch Lumber Company (1900-1903) | 13 |
| Chapter 4 - The Questions (1902-1905) | 21 |
| Chapter 5 - Construction Begins (1905) | 31 |
| Chapter 6 - The New Territory (1906) | 41 |
| C hapter 7 - The Lineâs Completion (1907) | 57 |
| Chapter 8 - The Milwaukeeâs Elk River Branch (1908-1911) | 73 |
| Chapter 9 - The WI&M in its Prime (1908-1917) | 85 |
| Chapter 10 - The First World War and the Twenties (1917-1929) | 115 |
| Chapter 11 - The Depression & Company Merger (1930-1941) | 131 |
| Chapter 12 - The Second World War and Gradual Decline (1941-1962) | 161 |
| Chapter 13 - The Wholly Owned Subsidiary of the Milwaukee Road (1962-1980) | 187 |
| Chapter 14 - The WI&M Branch of the Burlington Northern (1981-1996) | 203 |
| Chapter 15 - The PCC and current WI&M (1996 - Present) | 219 |
| Conclusion | 229 |
| Part II - Nuts & Bolts | 231 |
| Chapter 16 - Rolling Stock | 233 |
| Locomotives | 233 |
| Railcars on the WI&M | 263 |
| Passenger Equipment | 268 |
| Freight Equipment | 272 |
| Cabooses | 277 |
| Maintenance and Work Equipment | 282 |
| Bennett Lumber Products Cars | 287 |
| Chapter 17 - The WI&M Physical Plant | 289 |
| Chapter 18 - Rail Logging Operations | 311 |
| Electric Donkeys | 313 |
| Aerial Tramways | 315 |
| Loaders | 318 |
| Camps | 323 |
| The YMCA Car | 327 |
| Railroad operations | 328 |
| Sawmills | 337 |
| Products | 343 |
| Headquarters (Clearwater) Side | 343 |
| Equipment Roster | 351 |
| Locomotives | 351 |
| Passenger Equipment | 354 |
| Freight Equipment | 354 |
| Company Service Equipment | 356 |
| Miscellaneous | 357 |
| Bennett Lumber Products, Inc. (BENX) | 357 |
| Bibliography and Sources of Information | 358 |
| Archives | 358 |
| Photograph Collections | 358 |
| Interviews | 359 |
| Correspondence | 360 |
| Books | 361 |
| Periodicals | 367 |
| Newspapers | 368 |
| Miscellaneous | 368 |
| Index | 373 |
Save this product for later